About Brady Hotel
A Timeless Sentiment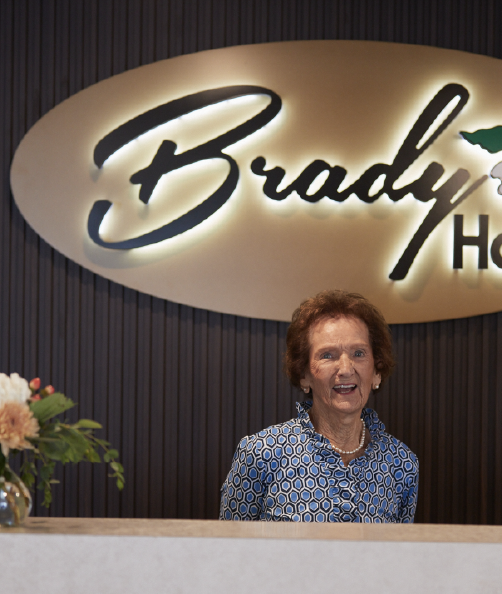 Welcome to Brady Hotel. Our hotel pays homage to its namesake, Elizabeth "Betty" Brady Baker, the mother to a passionate group of siblings who now own the property. Our name embodies the vision of an elegant woman who has never met a stranger. Her hospitality and friendly demeanor are at the heart of our mission. This beloved property has recently undergone a complete transformation, creating an exceptional guest experience.
We share a deep commitment to providing unparalleled hospitality, and dedication is evident in every detail of the renovated space. From updated amenities to a modernized atmosphere, every aspect of Brady has been thoughtfully designed to ensure your stay is nothing short of extraordinary. Step into a world where comfort meets style, and let us be your gateway to unforgettable memories in this beautifully rejuvenated space.
Reviews from Guests
"It's now a Brady Hotel--had a great stay. Hotel has been very nicely renovated. Yummy cookies at check-in, comfy bed, free hot breakfast (items change daily). Mini fridge and microwave--everything we needed 🙂 Checked out Graham Cave State Park while we were there!"
~Maia.
Reviews from Guests
"This was, hands down, one of the nicest hotels in its class that I've ever stayed at. It truly felt equivalent to a 4 star hotel, definitely superceding the 2 star ranking it holds. The staff are truly exceptional and the service is top notch. The breakfast is more akin to a resort than a hotel off the highway. They are wonderfully pet friendly, and I couldn't recommend staying there enough. The renovations are not shown off enough in Google images, so once that is updated, I believe this place will get the attention it deserves."
Reviews from Guests
"Car broke down on 1-70 headed west to KC and the deputy that stopped to assist us recommended the Brady Hotel just down the road as a place to stay until the car was fixed. The Brady Hotel, formerly Americas Best Value Inn, was recently remodeled and renamed by the new owners. The staff was friendly and helpful, accommodated our small yorkiepoo, great breakfast with soild bacon and other treats including a scone like muffin, special welcome lemon cookies, nice outside and inside eating area and the room was clean and well outfitted. We typically stay at Marriott properties and The Brady Hotel equaled or exceeded every detail we expect. McDonald's and Shell station are also just outside the door. My wife noted there was even an emory board alongside the sink in the room and appreciated its availability. Happened upon it due to car trouble, but The Brady Hotel made our time there comfortable and without any hassles. Thanks."
~Bill O.