At Brady Hotel
Comfort and convenience are at the core of features enhancing your stay with us to make it a memorable one. From our inviting outdoor patio to our scheduled shuttle services making transportation a breeze, we have thoughtfully curated amenities to meet your needs and exceed your expectations. Explore the unique offerings that set us apart and make your stay with us a great value.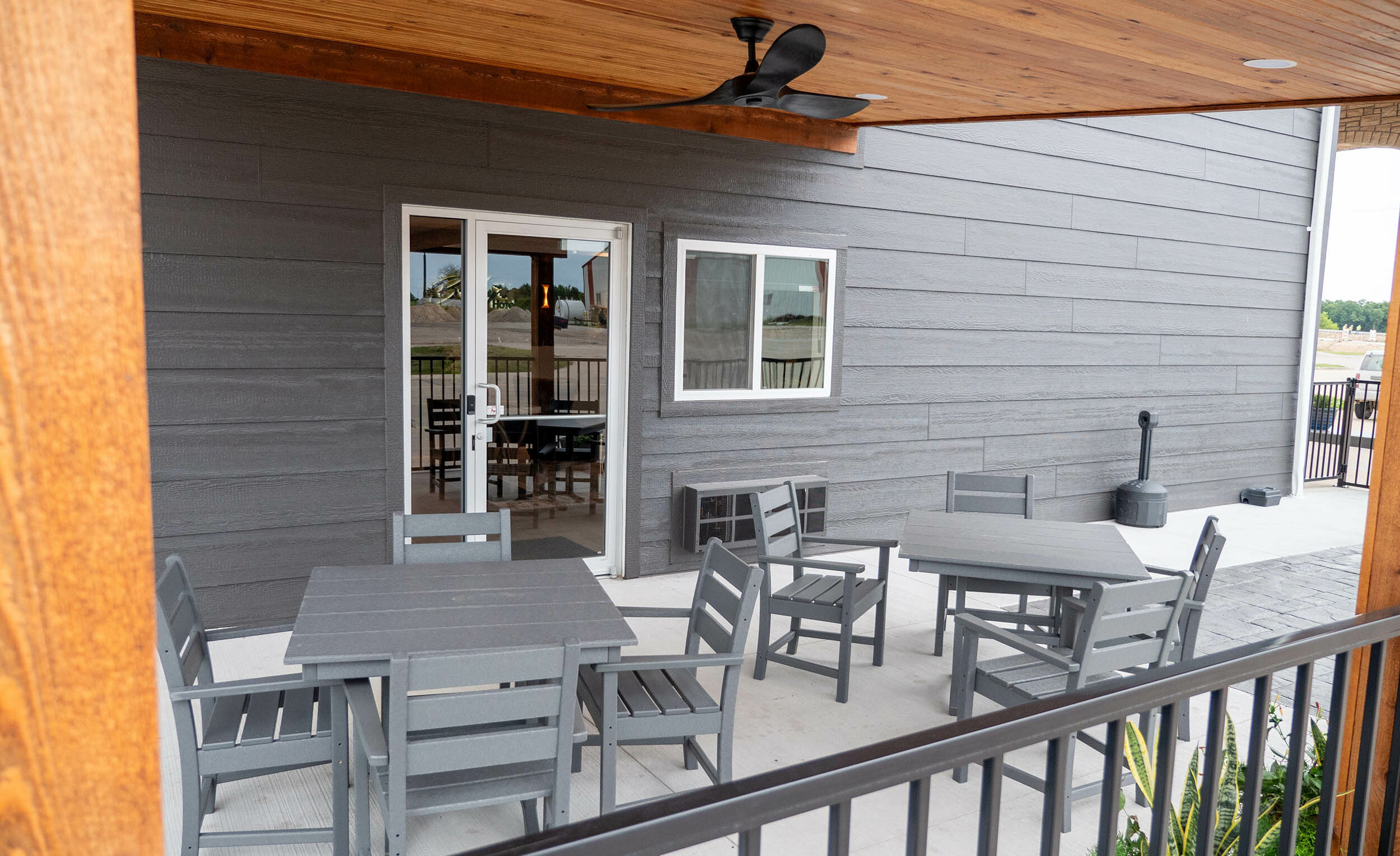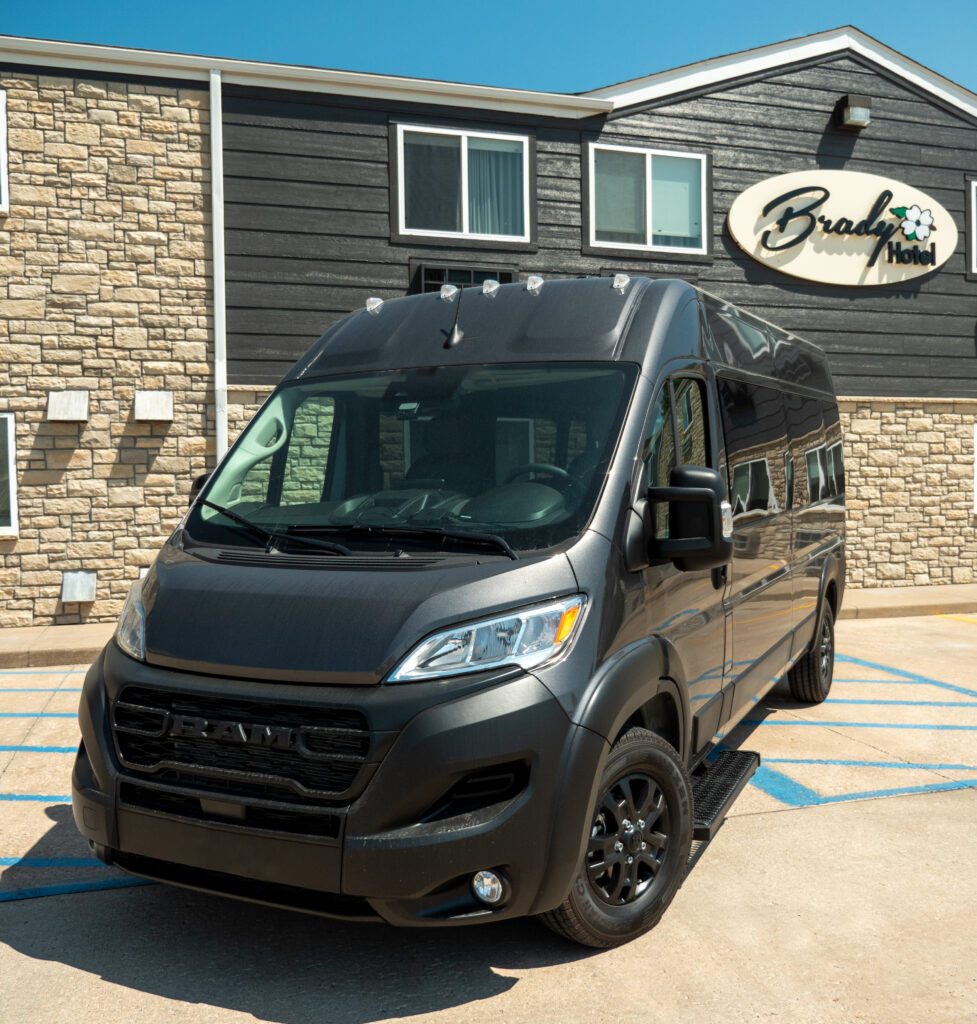 At Brady Hotel you will find:
• Free WiFi
• Complimentary Hot Breakfast
• Coffee Bar
• Sundry Shop
• Guest Laundry
• Prearranged Shuttle Service to                  Hermann
• Free Parking
• Covered Outdoor Patio
• Water Bottle Filler
• Fresh Baked Cookies at Check-In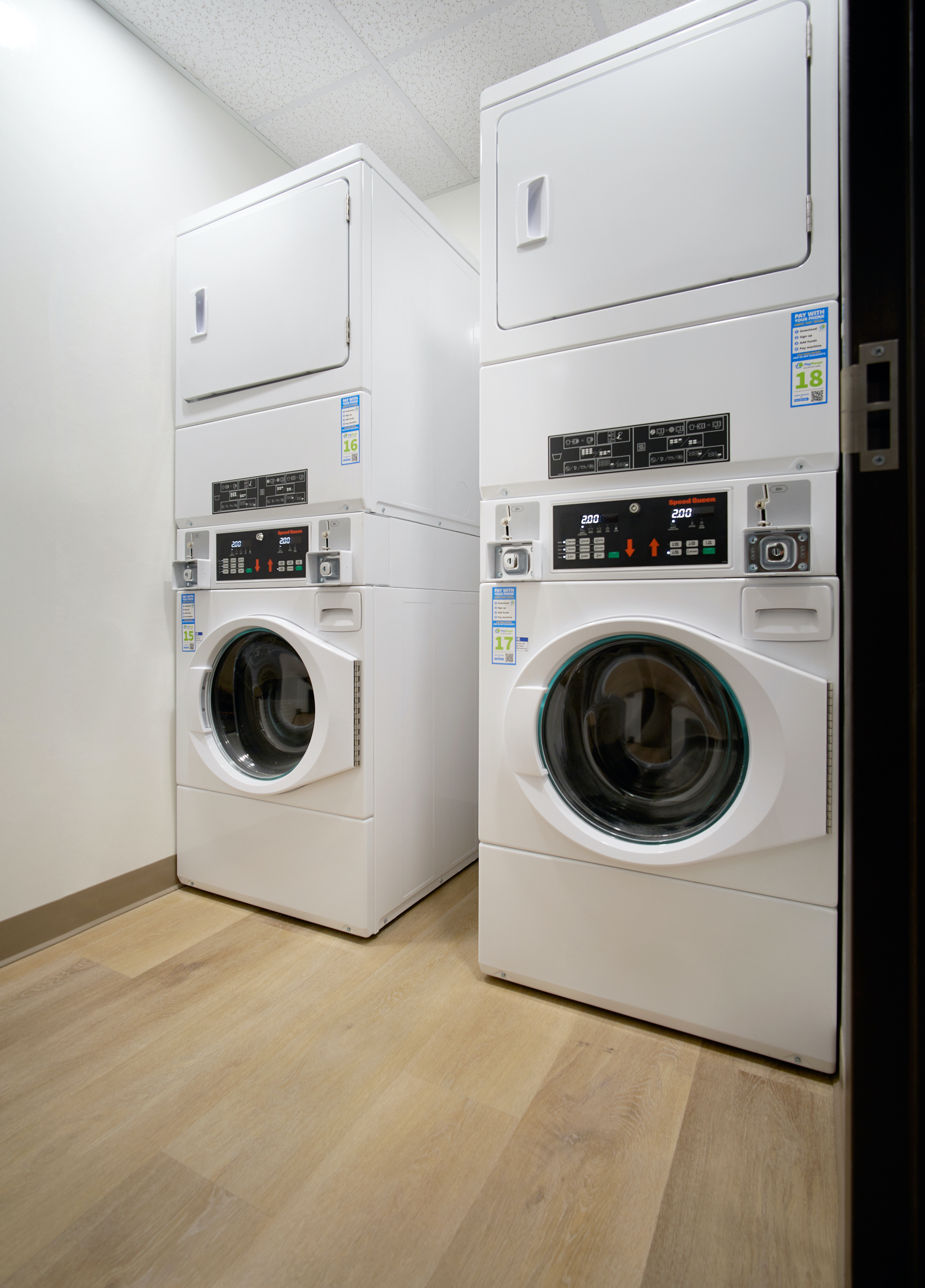 Convenient and Reliable Travel Services
Traveling by Amtrak on the Missouri River Runner? Ask about adding our Shuttle package to your stay. Allow our hotel shuttle service to assist you in seamless transportation to and from the hotel. To ensure a smooth journery, contact our friendly staff to inquire about shuttle availability and schedule your transportation arrangements.
Once you're in Hermann, take advantage of the trolley, shuttle, or private drivers, providing easy and efficient transportation arrangements.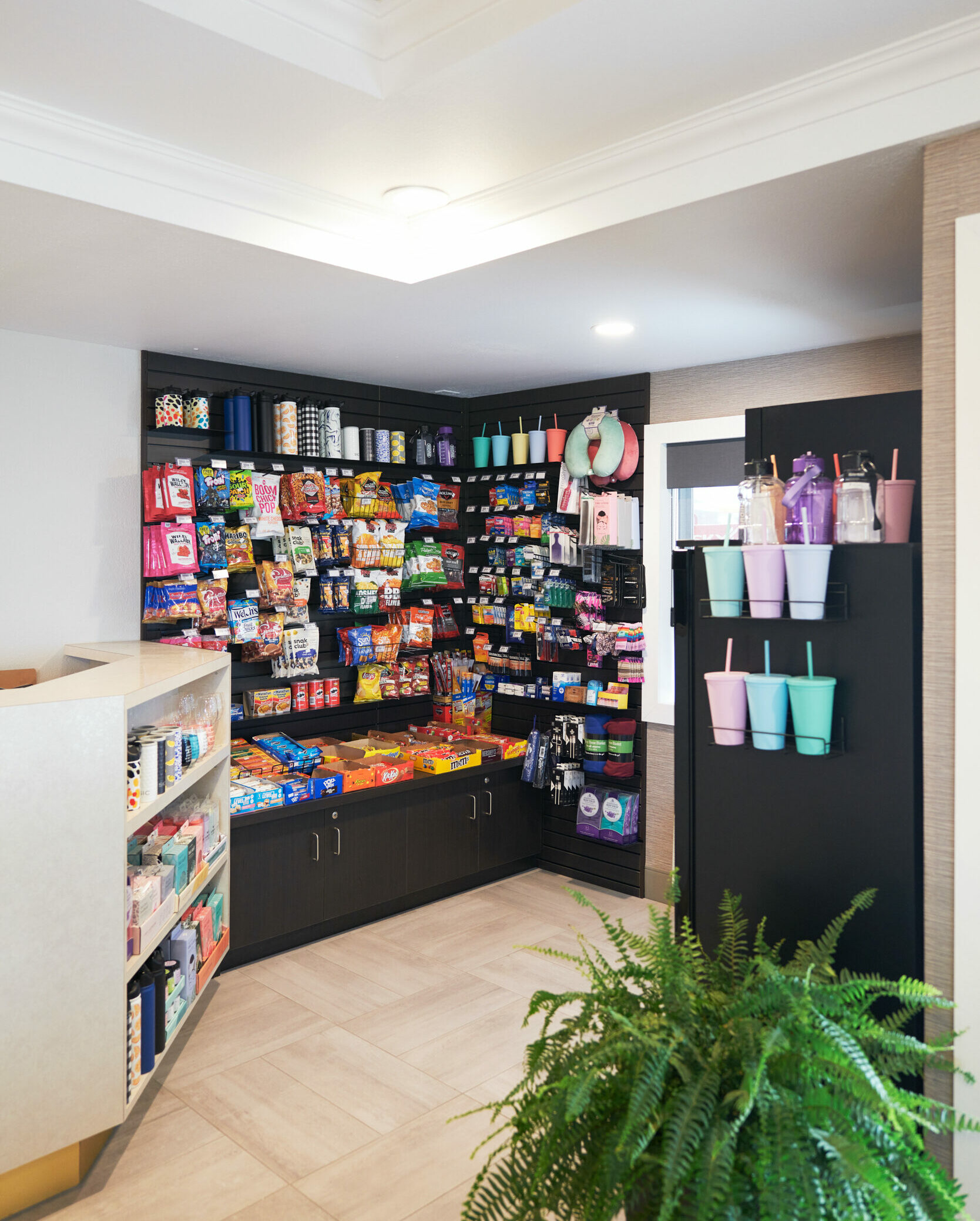 In our Sundry you will find:
• Chips
• Nuts
• Energy Drinks
• Soft Drinks
• Beer
• Assorted Over-The-Counter Medicines
• Assorted Toiletry Items
• Gift Items
• Etc.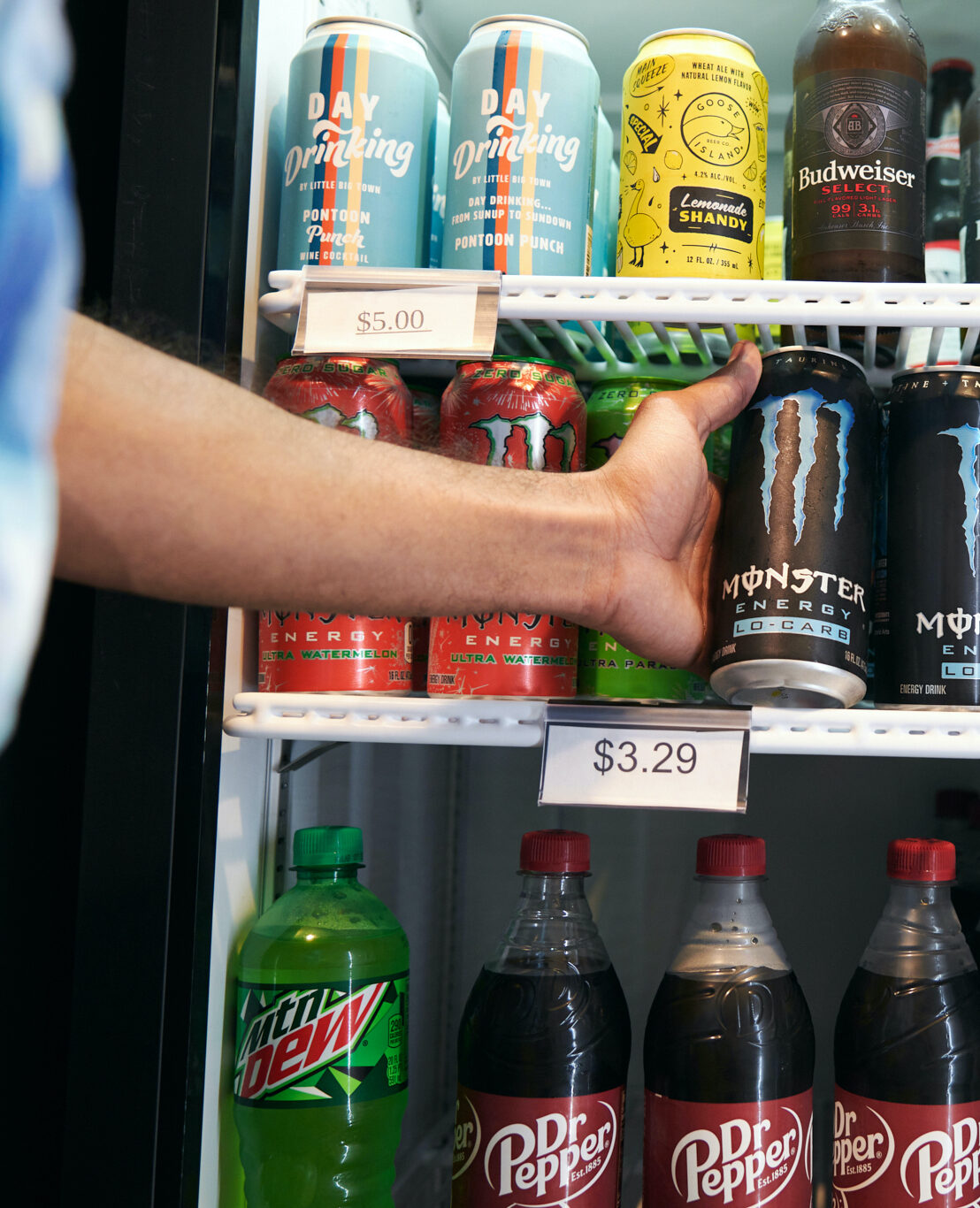 While the charming downtown of Hermann is just a short drive away, within walking distance you'll find convenient options including a FastLane convenience store and McDonald's, and Arby's in addition to our lobby sundry shop. These nearby choices provide quick and easy dining options when you need a quick bite close by. When you're ready to venture into the heart of Hermann's dining scene, a short drive will transport you to a delightful array of local restaurants, charming cafes, and boutique eateries. Experience the warm hospitality and friendly faces that welcome you as you indulge in delectable dishes. From intimate fine dining to casual open-air patios, the Hermann dining experience offers a variety of flavors and atmospheres to suit every taste.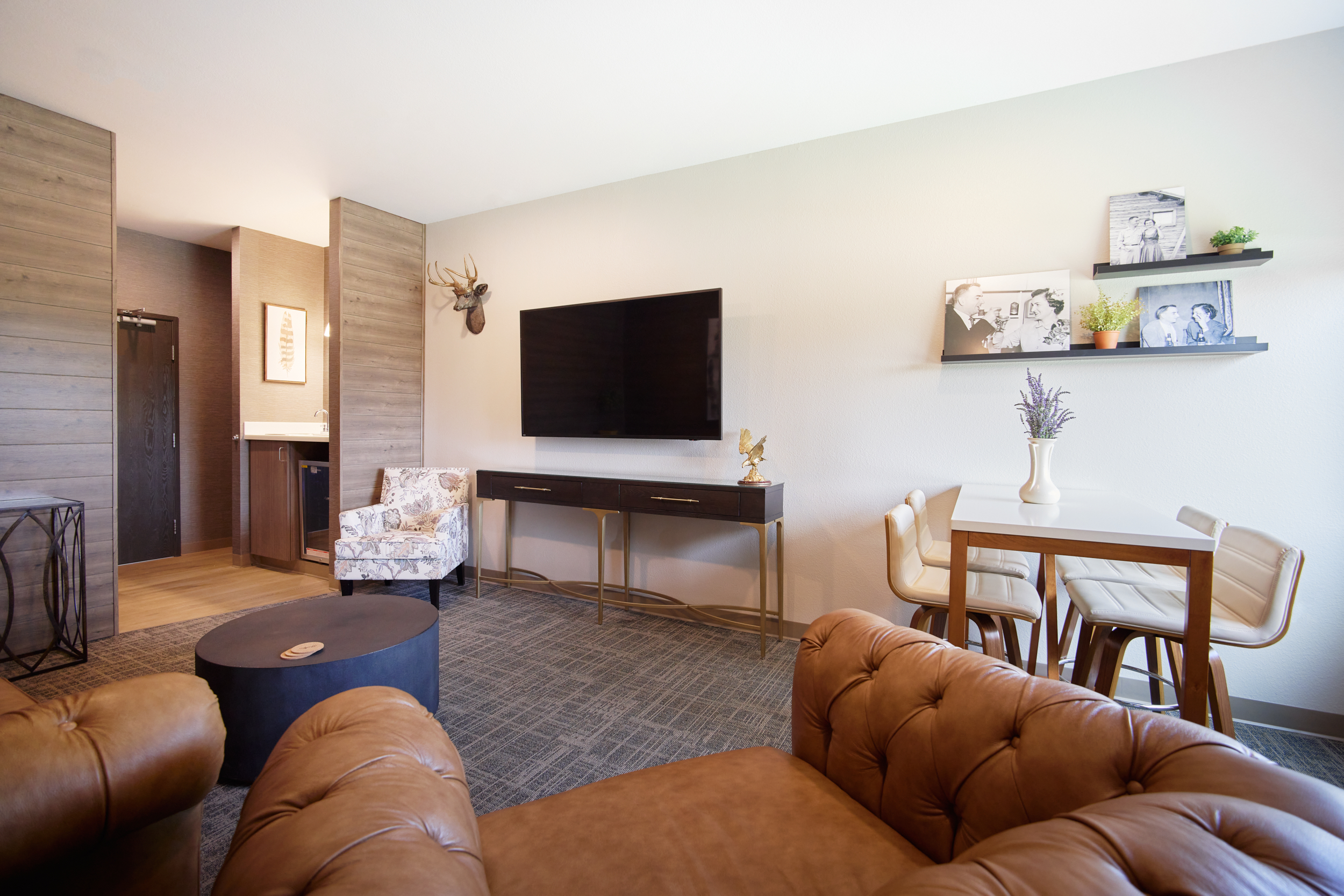 Reserve Our Versatile Guest Lounge
Experience the utmost comfort and convenience in our guest lounge, a flexible space designed to cater to your diverse needs during your stay. Whether you're looking for a tranquil spot to unwind, a productive environment for work, or a social hub to connect with fellow travelers, our guest lounge is the perfect choice. This lounge is available for you to reserve for meetings, small group events, and more.
Indulge in relaxation as you sink into our plush leather couch, enjoying the amenities at your fingertips. Immerse yourself in your favorite shows or host impromptu movie nights on the large screen TV with presentation capabilities. The elegant dry bar adds a touch of sophistication, allowing you to savor your preferred beverages in a stylish setting.
With seamless access to the lobby and guest services, our guest lounge becomes an extension of your personalized experience. Whether you need a space for a business meeting or a virtual conference during your vacation, our lounge provides a professional yet comfortable environment equipped to meet your work-related needs. Embrace the ideal setting for remote work, ensuring productivity between your exciting adventures. Don't miss out on this exclusive space – reserve our guest lounge now and make the most of your stay.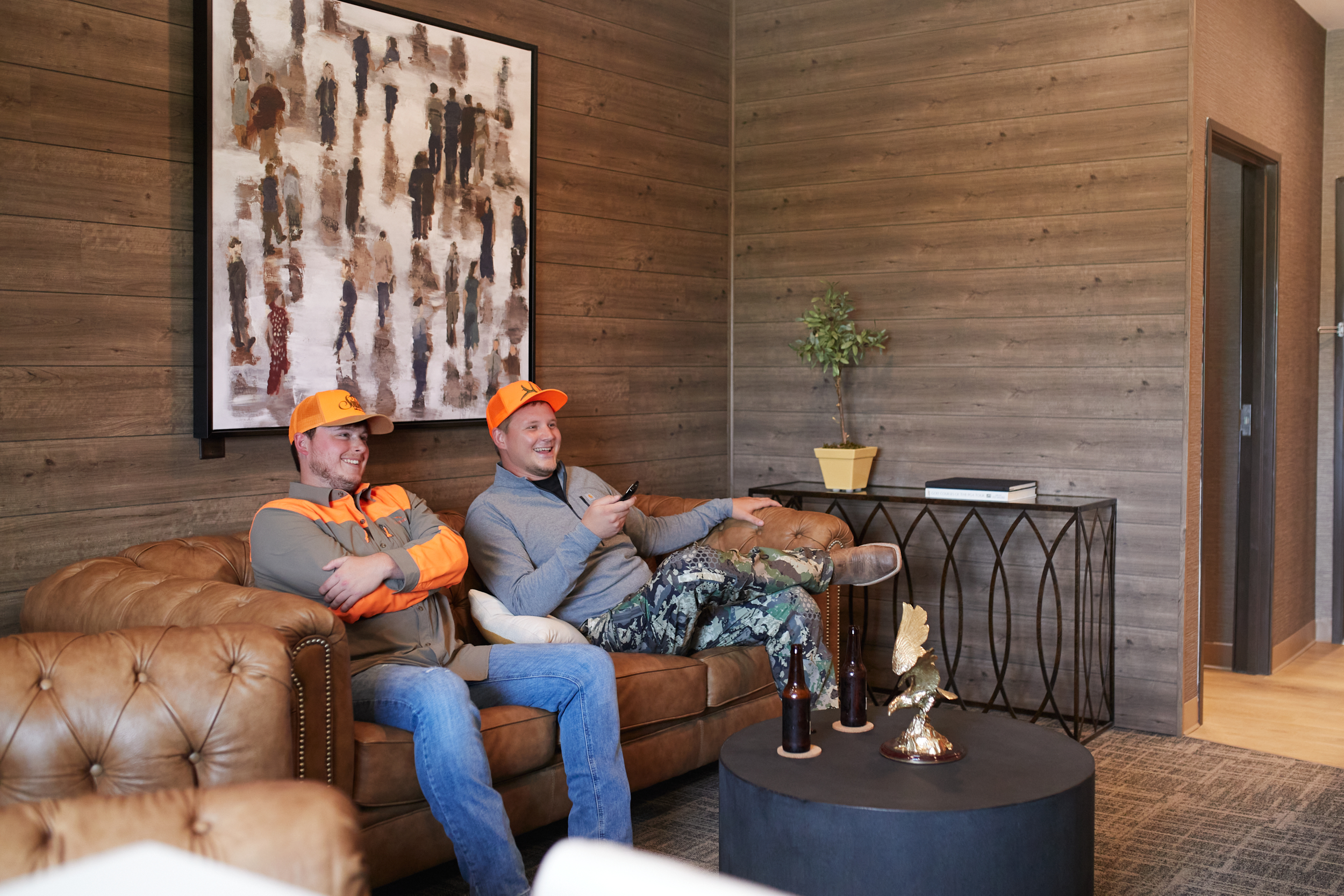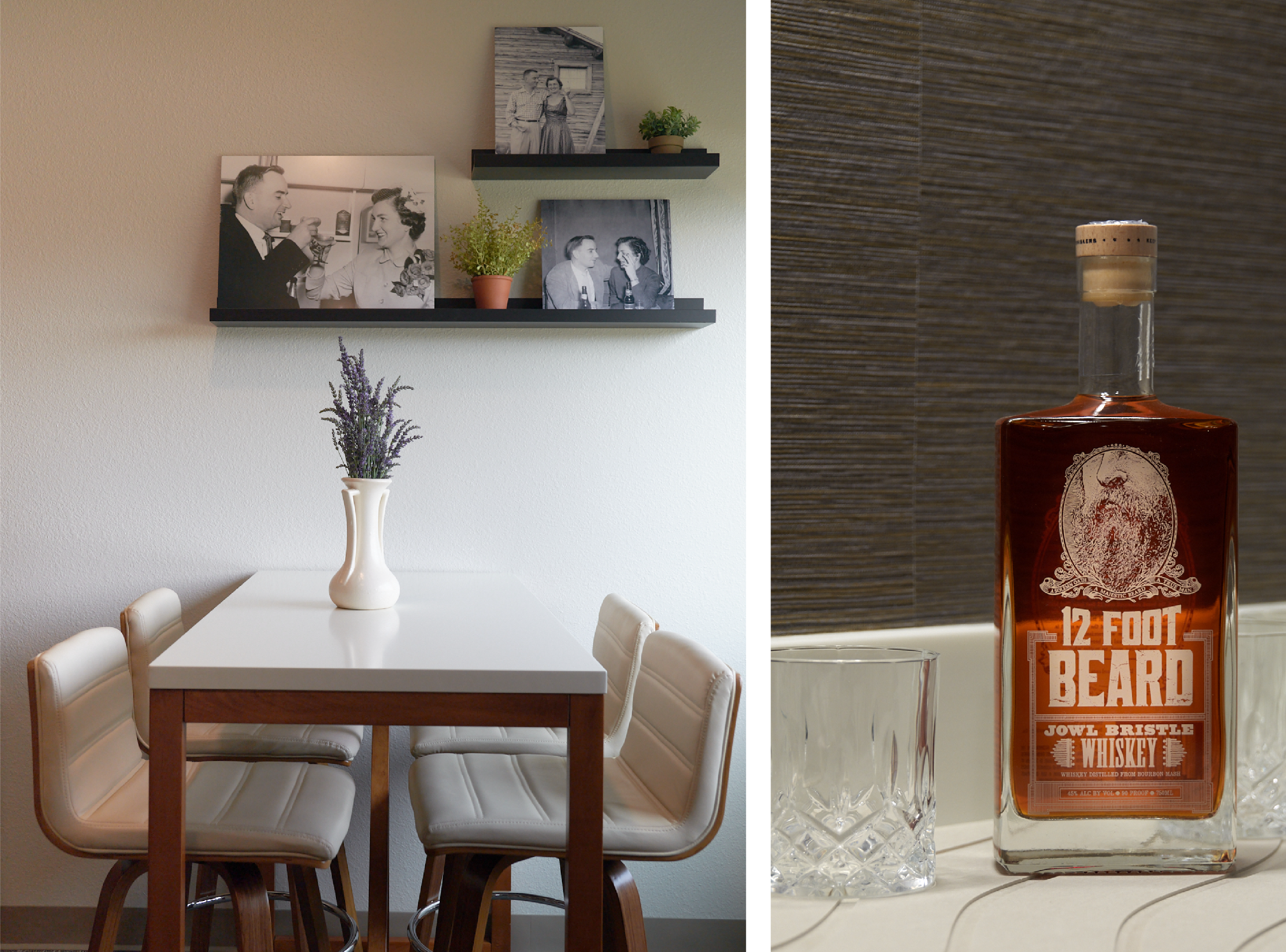 Reviews from Guests
"It's now a Brady Hotel--had a great stay. Hotel has been very nicely renovated. Yummy cookies at check-in, comfy bed, free hot breakfast (items change daily). Mini fridge and microwave--everything we needed 🙂 Checked out Graham Cave State Park while we were there!"
~Maia.
Reviews from Guests
"This was, hands down, one of the nicest hotels in its class that I've ever stayed at. It truly felt equivalent to a 4 star hotel, definitely superceding the 2 star ranking it holds. The staff are truly exceptional and the service is top notch. The breakfast is more akin to a resort than a hotel off the highway. They are wonderfully pet friendly, and I couldn't recommend staying there enough. The renovations are not shown off enough in Google images, so once that is updated, I believe this place will get the attention it deserves."
Reviews from Guests
"Car broke down on 1-70 headed west to KC and the deputy that stopped to assist us recommended the Brady Hotel just down the road as a place to stay until the car was fixed. The Brady Hotel, formerly Americas Best Value Inn, was recently remodeled and renamed by the new owners. The staff was friendly and helpful, accommodated our small yorkiepoo, great breakfast with soild bacon and other treats including a scone like muffin, special welcome lemon cookies, nice outside and inside eating area and the room was clean and well outfitted. We typically stay at Marriott properties and The Brady Hotel equaled or exceeded every detail we expect. McDonald's and Shell station are also just outside the door. My wife noted there was even an emory board alongside the sink in the room and appreciated its availability. Happened upon it due to car trouble, but The Brady Hotel made our time there comfortable and without any hassles. Thanks."
~Bill O.
Frequently Asked Questions
Do you have free WiFi/What is the password?
Our free WIFI password changes frequently. You may find it in your check-in materials. If you're having trouble, please contact guest services.
Are you smoke-free?
Yes, our property is smoke and vaping free. Smoking or vaping on inside will result in a $500+ cleaning charge.
Are there special rates for group bookings?
Do you offer a hot breakfast?
Yes! Upon check-in you will also receive a freshly baked cookie. Our hot breakfast is offered in our lobby from 6 AM to 10 AM daily You can also enjoy a drink from our coffee and beverage bar 5 AM – 11 PM.